ASMARA-Group
---
Free Internet access

for ASMARA guests!
---
Show in Google Maps
---
---

ASMARA Senggigi: Events
Entertainment & Music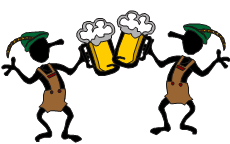 Every week's Friday (except the first week in a month) there is the "Stammtisch" for ASMARA-friends. Here meet the locally resident foreigners ("expats"), members of organisations and companies staff who are busy in Lombok, and their families for a relaxed chat.
---
The ASMARA becomes regularly a stage for talented musicians to pleasure friends and guests with background music - mellow jazz, blues, and every now and then with special guest's contributions.

The event series started with "Ary Juliyant & Folk".
Ary Juliyant is a well known artist

Neil plays a soulful blues harp

---

One Highlight 2012

The favourite "special event venue" - Asmara Restaurant, held a
"Jazz & Blues & BBQ Night" on 9th June 2012.
Asmara put on a delicious barbeque for the more than 100 satisfied guests of the event.

Pipiet impressed with a powerful voice

Popular local bands Aan Tomstone & Friends, Ary Juliyant Folkclub, Agus and the Pallette Band, etc., were playing and the open jam session after the official concert lastet until late in the night.