ASMARA-Group
---
Free Internet access

for ASMARA guests!
---
Show in Google Maps
---
---

Lombok-Info
The Lombok Island
Lombok is an island of natural beauty with a wide variety of landscapes, and is not yet overcrowded by tourism like it's famous neighbour-island Bali.
Lombok is often called "Bali's beautiful sister", but Lombok is very different. It belongs to the Australian region of fauna and flora (east of the "Wallace-Line"), with dryer climate than Bali, and different plants and animals.
| | |
| --- | --- |
| Lombok offers a rich variety, beautiful beaches and most different landscapes. | The volcano Rinjani with a peak of 3.726 m is one of the highest mountains in Indonesia, and is surrounded by a magnificent National Park (> Rinjani). |
There are only two seasons: the rainy season from about November to March with heavy rainshowers (sometimes several days), and the rest of the year is dry season but can have high humidity due the close ocean. The temperature reaches about 26-30 degrees Celsius at sea-level during the whole year. It can become really cold in higher regions, especially on Mt. Rinjani.
The Indonesian capital Jakarta is more than 1.000 km to the West, and the equator is about 1.000 km north of Lombok. This makes Lombok an easy to reach tropical spot without the huzzle of big cities.
The original Lombok-people are called Sasak and have their own culture, but less spectacular than the Balinese. They look different to Balinese people, with smaller faces and taller bodies. The vast majority of Lombok's mostly islamic population is very tolerant against other religions, but tourists should of course respect the local habits and customs (like everywhere in the world).
See also Wikitravel - Lombok travel guide.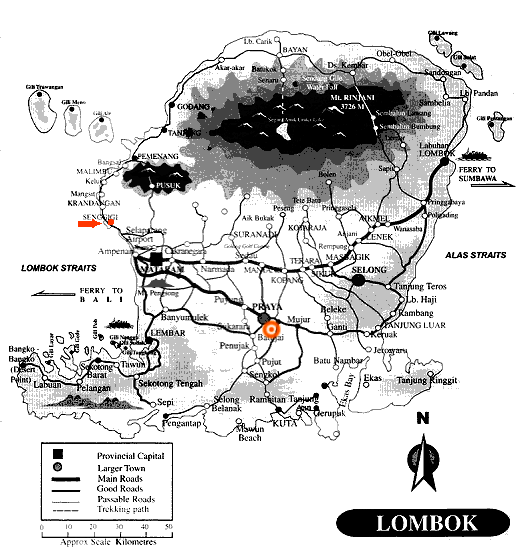 Approach to Lombok
Lombok is approached by numerous domestic flights and the international airport "Bandara Internasional Lombok - BIL", located a few kilometers southwest of Praya (see above map), shall be served from an increasingly number of international flights.
For the distance between the airport and Senggigi, one should calculate by taxi or bus with approximately 1.5 hours travel time (the DAMRI bus is quite cheap - information without guarantee!).
From Bali (Kuta) one can reach Lombok by plane in about 30 minutes (pure flight-time). One may also take one of the regular and cheap sea-ferries (about 4.5 hours; it may take considerably longer at strong wind and stream - and can be a little "adventurous"). Comfortable boat-tours are also being offered from Bali.
Older Lombok photos